particleIllusion 3.0 + Emitter Libraries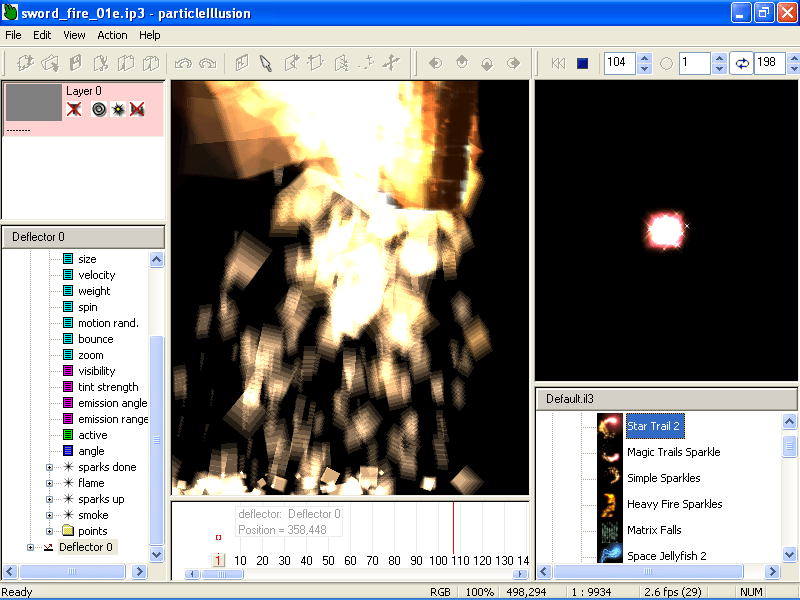 This archive includes the Pro Emitter libraries once available for download within the software itself.
​
Info:
If you think that particle systems are too complicated to use or are too slow, then you must not be using particleIllusion.

particleIllusion is a standalone particle effects application that is easy to use, fast, and powerful. Use it to quickly add amazing particle effects to any image, animation or video.

Some of particleIllusion's uses include:

Broadcast: Since its release in 1998, particleIllusion has been used in countless TV commercials and shows, including Star Trek: Enterprise, Aqua Teen Hunger Force, The 2003-2004 NBA season on TNT, and NASCAR on TNT

Film: Today's films are loaded with post-production effects work, often times on very tight schedules. particleIllusion is so fast and easy to use that it's the tool of choice when the deadline looms and a shot needs some last-minute tweaks (more smoke, a few sparks, an extra layer of snowflakes, etc). particleIllusion has been used in many feature films including: The Manchurian Candidate, Van Helsing, Hellboy, and Sky Captain and the World of Tomorrow.

Pre-visualization: Even when it won't be used in the final version of a shot, particleIllusion is the ultimate high speed particle tool for pre-viz. Its speed allows for multiple iterations in minutes, allowing the client to "direct" the performance of explosions, smoke and other effects.

Advantages:

Using OpenGL hardware acceleration, you'll get real-time (or near real-time) preview of most effects and ultra-fast rendering of final output.

Choose from an always-growing collection of preset effects from the ordinary (such as smoke, fire, explosions, water effects, sparkles) to the unusual (colorful artistic effects, strange undersea creatures).

Modifying an effect or creating a new one is simple. Since particleIllusion is "sprite-based" (uses images for all of the particles), you'll find it very easy to create new effects right away.​
src: https://web.archive.org/web/20060427184737/http://www.wondertouch.com/default.asp