Author

E-MU, R2R
Publication date

Oct 6, 2020
File size

1.8 GB
Download type

Open directory
Rarity
E-MU EMULATOR X3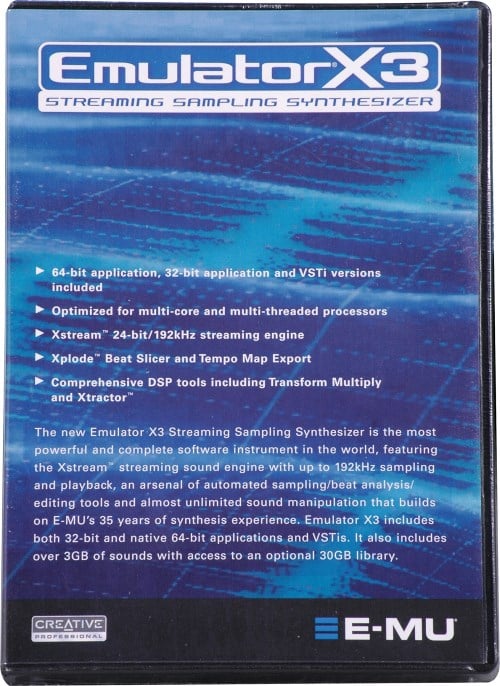 ​
Info:
Emulator X is a software-based audio sampler that was produced by E-MU Systems from 2004 to 2009. Emulator X software is compatible with PCs running the Microsoft Windows operating system. The sampler can operate as a stand-alone program or as a VST instrument and, as of Emulator X3, is available in both 32-bit and 64-bit versions.
For the software to run, one of several sound cards sold by E-MU was originally required.[1] The sound card acted as a hardware dongle to prevent unauthorised use without the purchase of an E-MU branded device. This requirement was later dropped with the release of Emulator X

Versions

Following E-MU's decision to end sales and production of its hardware sampler line in 2003, Emulator X was released as the company's first entry into the software sampler market in 2004.[1] Emulator X2 was released in 2006,[3] followed by the third and final incarnation, Emulator X3, in 2009.[4] The product has since been discontinued[5] and is no longer available to purchase from either E-MU or its parent company, Creative Technology.

Functionality

Emulator X was largely based on E-MU's hardware sampler operating system, EOS. As such, it replicates or expands upon most of the design and features available in the final revision of the operating system, EOS 4.70. An example of this is the inclusion of E-MU's highly publicized "Z-Plane" filters, with Emulator X containing over 25 new filters not available in EOS.[3]

It is also capable of importing and exporting bank files in EOS format for compatibility with E-MU's legacy hardware samplers such as the Emulator IV and E4 Ultra series devices.[6]

It is the last software sampler produced that retains the ability to directly sample other sources, in contrast to current software samplers, which require existing samples and are therefore more akin to traditional ROMplers. Among the more noteworthy sampling features added in Emulator X2 is SynthSwipe, a tool which gives Emulator X the ability to sample from connected MIDI devices such as hardware synthesizers by sending a series of notes at differing velocities via MIDI and automatically recording the device's output to create a new fully mapped sample bank.

Note: The 32/64-bit pre-activated version supersedes all previous versions and should be used in almost every case. There is no longer any need to mess with serial numbers or the need to authorize it online.
src: https://en.wikipedia.org/wiki/E-mu_Emulator_X / https://archive.org/details/setup-emulator-x-3-x-64-v-3.0.0
NFO:
Code:
▄▄▄▄▄▄▄▄▄▄▄▄▄▄▄▄▄▄▄▄▄▄▄▄▄▄▄▄▄▄▄▄▄▄▄▄▄▄▄▄▄▄▄▄▄▄▄▄▄▄▄▄▄▄▄▄▄▄▄▄▄▄▄▄▄▄▄▄▄▄▄▄▄▄▄▄▄▄▄▄
▓▓░▓▓▓▓░ ▓▓  ░░░▓▓░░ ░▓▓  ▓▓▓▓░░▓▒░░░░░░░░░░░░░░░░░░░░░░░░░░░░░░░░░▓░   ▓░▒▓░░░░
░░▓░░░ ░████░░░░░░▓░░  ▓▓▓░░▓▓▓░░▒▓░▒▒▓▒░░░▓▒▒▓▒▓▒▒▓▒▒▒▒▓▒▒▓▒▒▒░░░░▓▓░░░▓░▒▓░▒░░
▒▓▓▓░ ▒███▓██░ ░░░░▓▒░░ ▓▓▓░▓▓▓░░▒▓ ░░░░░  ░ ▄▄▄▄▄▄▄▄▄▄▄▄▄▄▄▄▄▄▄▄▄▄▄▄▄▄▄▄▄▄ ░░░░
░░░░ ▓███░ ▒██ ░░░░▓▒░░ ▓▓▓ ░░▓▓░░░▓░░░░░░░ █                              █ ░░░
░░ ░███▓  ░ ██░ ░░░▒▒░░ ▒▒▓░░░▓▓░░░▓░░░░░░░ █  It's not piracy.            █ ░░░
░ ▒█████░  ░██░ ░░░░▒▒▒░ ░▒▓░░▓▓░░░▓░░▒▓▒▒▓ █                              █ ░░░
 ▓███░░███▓███░ ░░░░░▒▓░░  ▓▓▓░    ░▓▒░░░░░ █  It's alternative solution.  █ ▒░░
░██▓ ░░▓█████░  ░░░░░▒▓░░  ▓▓▓ ░▓▓ ░▓▒░░░░░ █                              █ ░░░
 ░▒ ░  ██░ ░  ░░  ░░▒▒ ▓░░░ ▒░░████░ ▒▓░▓▒▒▓ ▀▀▀▀▀▀▀▀▀▀▀▀▀▀▀▀▀▀▀▀▀▀▀▀▀▀▀▀▀▀ ░ ░░
▒░ ░░ ▓██░░ ▒████░ ░░░░░▓▓░  ▒███▓██░░▓░░░░░░░░ ░░░░░░░░░░░░░░░░░░░▓░   ▓░▒▓░░░░
▓▓░░░░██▒░░███▓▓██▒ ░░░░▓▒  ▓███░ ▒██ ░▓░░░░░░░░░░░░░░░░░░░░░░░░░░░▓▓▓▓▓▓░▒▓▓▓░░
▒▓▓░ ▓██  ▓███░░ ██ ░░░▓░ ░███▓  ░ ██░░▓░░░░░░░░░░░░░░░░░░░░░░░░▓░░▒░▒░▒░░░▒░▒░░
░░▓▒░ ▓░░░██▒██▒░██░  ░░ ░█████▒  ░██▒░▓▒▒▒▒▒▒▒▒▒▒▒▒▒▒▒▒▒▒▒▒▒▒▒▒▓░░░░░░░░░░░░░░░
░░▒▓▒░ ░░░██ ░█████ ▓   ▓███░░███▓███░▒▓▓▓▓▓▓▓▓▓▓▓▓▓▓▓▓▓▓▓▓▓▓▓▓▓▓░░░░░░░░░░░░░░░
░░░▓▓▓░░░ ██░  ▒▓▓░░██ ░██▓░░ ▓█████░░▓▓▓▓▓▓▓▓▓▓▓▓▓▓▓▓▓▓▓▓▓▓▓▓▓▓▓▓▓▓▓▓▓▓▓▓▓▓▓▓▓▓
▒░░░░▓▓░░ ░██▒ ░ ░░██▓  ░▒ ▒▒ ██▒ ░ ░░ ░▓▓▓▓▓▓▓▓▓▓▓▓▓▓▓▓▓▓▓▓▓▓▓▓▓▓▓▓▓▓▓▓▓▓▓▓▓▓▓▓
▒▓░░░░▓▓▒░ ░██▓ ▒ ▓██ ░  ░▒▓ ▓██░ ▒████▒░▒▓▓▓▒▒▓▓▓▓▓▓▓▓▓▓▒▒▓▓▓▓▓▓▓▓▓▓▓▓▓▓░░▒▓▓░▒
▓▓▓░░░░▓▒▓░  ░░░ ░██░░ ░▓▒░▒▒██▒ ███▓▓██▒░▒▓▓▒▒▓▓▒▒▓▓▓▒░▓▒▒▒▓▓▓▓▓▓▓▓▓▓▓▓▓░▒▒▒▒▓▓
▒░░▒▒░░▒▓▓▒░░░░▒ ██▓ ░▓███▒ ▓██ ▓███░░ ██░▒▓▓▒▒▓▓▒░▓▓▓▓▒▓▓▒░▓▓▓▓▓▒▒▓▒▓▓▓▓░▒▓▒▒▓▓
░░░▓▒▒░░▒▒▓▒░░░░▒██▒████▓▒░▒ ▓░░██▒██▒░██░▒ ▒▒▒▓▓▒░▓▓▓▓▒▓▓▒░▓▓▓▓▓▒▒▓▒▓▓▓▓░▒▓▓▓▓▓
░░▓▓▓▒░░░░▓▓▒░░ ██████▒░  ░   ▒░██ ░█████  ▓░░▒▓▓░▒▓▓▓▒░▓▒▒░▓▓▓▓▓▓▓▓▓▓▓▓▓░▒▓▓▓▓▓
▓▓░░░░░░░░░▓▓▒░  ██▒░ ░ ▒████░  ██░  ▒▓▓ ░░██ ▒▓▓▒░▓▓▓▓▓▓▒▒░▓▓▓▓▓▓▓▓▓▓▓▓▓░▒▓▒▓▓▓
▓▓▓▓▓▒░░░░░░▒▓▓▓░  ░▒▒░▓██████▒ ░██▒ ░ ░▒░██▓ ▓▓▓░▒▓▓▓▓▓▓▓▓░▓▓▓▓▓▓▓▓▓▓▓▓▓░░▒▓▓░░
▓▓▓▓▓▓▓▓▓▓░░░░▓▓▓▓▓▓▓ ▓██▓░ ░██░░░██▓▒ ▒░▓██░▒▒░░░░▓▓▓▓▓▓▒▒▓▓▓▓▓▓▓▓▓▓▓▓▓▓░▒▓░░▓▓
▓▓▓▓▓▓▓▓▓▓▓▓▓▓▓▓▓▓▓▓▒░██▓ ▒▓ ▓█▒░░ ▒██▓ ░██▒░ ░▓▒░▒▓▓▓▓▓▓▒▒▓▓▓▒░░░░░░▓▓▓▓░▒▓▓▓▓▓
▓▓▓▓▓▓▓▓▓▓▓▓▓▓▓▓▓▓▓▓▒░██░▒▓░░██▒░░▒███▒ ██▓ ░▓███▒ ▒▓▓▓▓▓▒▓▓▓▓▒░░▒░▒░▓▓▓▓░▒▓▓▓▓▓
▓▓▓▓▓▓▓▓▓▓▓▓▓▓▓▓▓▓▓▓▓ ██▒  ░███░ ▒███▒░▒██▒████▓▒░░ ░▒▓▓▓▓▓▓▓▓▒▒░░▒░▒▓▓▓▓░▒▓▓▓▓▓
▓▓▓▓▓▓▓▓▒░▓▓▓▓░▓▓▓▓▓▓░    ░    ░▓██▓░░ ██████▒░▒████▒░▒▓▓▓▓▓▓▓▒░░░▒▓░▓▓▓▓░▒▓▒▓▓▓
▓▓▓▓▓▒▓▓▒░▓░▒▒░▓▓▓▒░ ░▒▓█████▓░░▓█▓ ▒  ░██▒░  ███▓▓██▒░▓▓▓▓▓▓▓▒▒░▒░░░▓▓▓▓░░▒▓▓░░
▒░░▓▓▓▓▓▒░▓░░▒▓▓░ ░▒███████████▓░░░░ ▓█░  ░▒ ▓███░ ░██░▒▓▓▓▓▓▓▒░░░▒▓░▓▓▓▓░▒▓░░▓▓
▒▓▓▓▓▓▓▓▒░▓░▒▓░ ░▓██████████████▒ ░░███▓ ▓▓▒░██▒██▒░██░▒░▓▓▓▓▓▒▒░▒░░░▓▓▓▓░▒▓▓▓▓▓
▓▓▓▓▓▓▓▓▒░▓░░ ░▓█████████████████ ░███▒ ░░░░░██ ░█████   ░▒░▓▓▒░░░▒▓░▓▒░▓░░▒▓▓░▒
▒▓▒▒▒▓▓▓▒░▓  ▓███▓░▒█████████████▒▒██░░▒░░▒░ ██░░ ▒▓▓░ ▓█ ▒░▓▓▒▒░▒░░░▓▓▓▓░▒▒▒▓▓▓
▒▒▒▒▒▓▓▓▒░ ▒███░   ░░████████████▒░█░░▒░▒██▒ ░██▒   ░░███░ ░▓▓▒░░▒░░░▓▒▒▓░░▒▓▓▒▒
▒░▓▓▓▓▓▓ ░▓██▒ ░▓▓░▓ ▓████████████ ░░░ ▒███▒▒░▓██▓  ▒███▓██▒ ▓▒▒░░░▒░▓▒▒▓░░░▒▓░░
▒░▓▓▓▓▒░░██▓ ░░▓▓▓░▓░░███████████▓ ▒░▒███▓ ▒████▓░ ▒███▓▓██▒░░░░░▒▒░░▓▓▓▓░░░░░░▒
▓▓▓▓▓▒ ▒██░ ░▓▓▓▓▓▓▓▒ ███████████▒░█████▓ ░▒███▓  ▓███░ ░ ░░▓▒░ ░░░░▒▓▒░▓░░░▒░▒░
▒▓ ▓▒ ▓██░░░░░ ░▒▓▓▓▓ ███████████░  ███░░ ▓█████░░███▒░░▒▒░████▒ ░░▒░▓▓▓▓░░▒▓▓░▒
▓▓▒▒ ▓██   ░▒▓▒▒░ ░▒▓ ██████████▓ ▒  ░░░░███▓ ░▓  ░██░░░▒ ▓██▒██▒░░░░▓▒▒▓░▒▒▒▓▓▓
▒▒▒ ▓██▓▒▓███████▒ ░▓ ▓█████████░░▒ ▓▒  ███▒ ░░ ▓█  ░░░ ░░▒█▓  █▒░░▒░▓▒▒▓░░▒▓▓▒▒
░░ ░██████████████░░▓ ▓████████░░▒░░███▒░▓▒░▓░░▓██▓ ░░░█░░░██░░  ░░░▒▓▓▓▓░░░▒▓░░
░░ ███████████████░░▓ ████████▒ ░░ ▓████▒░▒ ░░███▒ ░░▒░██░░██░░  ░░  ▓▒░▓░░░░░░▒
░ ▒██████████████▓ ░▒░███████▒ ░░ ░██████░  ▒███▒  ░  ░▒█████░ ▒████░░▒▓▓░░░░░░░
▓ ▓██████████████  ░ ▓██████░░▒▓▓ ████████ ▒███░ ▒████▒ ░▓██▒░███▓▓██▒░▓▓▓▓▓▓▓▓▓
▓ █████████████▓ ░░ ▒█████▓ ░▒▒▓░░████████▒░█▓ ░▓██████▒░ ░ ░▓███░░ ██░▒▓░░░░░░░
▓ ████████████▒ ▒░ ▒█████▒ ░░▒░░░░ ░ ▒█████ ▒  ▓██▓░ ░██░▒▒░░██▒██▒░██░▒▓▓▓▓▓▓▓▓
▓ ██████████▓ ░▓░ ▓████▓ ░▓▓░░▒▒░░░░░ ▒████ ░▒ ██▓ ░▓ ▓█▒░▓░░██ ░█████ ▒▓▓▓▓▓▓▓▓
░ ░███████▓░ ▒▒ ░█████░   ▓▒░▒▓▓▒▒▓▓░ ▓███▓ ▓▒░██░ ░░░██▒░▒ ░██░░ ▒▓▓ ░▒░░░░░▓░░
░░ ▒███▓▒  ░▒░ ▓█████  ▓▓▓▓░░░░░    ░█████░░▓▒ ██░  ░███░  ▓█▒██▒     ░░░░░░░░░░
▒▓░  ░   ░░░░░█████▓ ░░▓  ░  ░░▒▓▓████████ ░▓▓░░███████░░ ███▒░██▓ ░▒░░░░░░░░▒░░
▓▓▓▓▓▒▓▓▓▓░░░█████▓ ▒▒░▒░  ▓█████████████░ ░▓▒░░░▓███▓░ ▒█████▓▒▒ ░░░░▒▒░░▒░░░░░
░░▓░░▓░▓░▒  █████▓ ░▓░ ░▒ █ ██  ████████░ ░░▓▒▒▓▒  ░░  ▒███▓░░██▓ ░░░░░░▒░░░░▒░░
▓▓▓▓▓▓▓▓▒░ ▓█████  ░░ ▒█ █ █  ██ ██████ ░░░░▓▒▒▓▓░░░▒░▓███░ ▒ ▓██ ░░░ ░ ░░░░░░░░
▒▒▒▒▒▒▒▓▒░░█████░░░ ░  █ █░█ █ █ ████▒ ░▓░░░▒         ██▓ ░░ ▒██▓ ░░ ██▒ ░░░░▒░░
▒▒▒▒▒▒░▓▒ █████▓ ▒ ▓ ██  █░█ █░█ ██▓ ░░▓▓░   █████████   ░░ ▓███ ░   ██░░░░░░▒░░
▓▓▓▓▓▓░▓░░█████▒░ ▓█ █ █ █░██░░█ ░  ▒▓░▓  ███░░░      ▓██  ███▓ ░ ▓█  ░░░▒▒▒▒▓▒▒
▓▓▒▓▓▓░▓ ▒█████░ ▓███ █░██░█▒░█  ░▓░▓▓░ ██░░░▒▒▒▒▒▒▒▒░   ▓█  ▒ ░░▓██▓ ▒▓▒▓▒▓▓▓▓▓
░░░▓▓▓░▓ ▓█████░░█████ █░▒░▒  █ ▒▒▓░▓▓ █░░▒▒▒▒▒▒▒▒▒▒▒▒░░░  ██ ░░███▒ ░░░▓▓▓▓▓▓▓▓
▓▓▓▓▓▓░▓ ██████░▓███    █░    █    ░▓ █░▒▒▒▒▒▒▒▒▒▒▒▒▒▒░░░░  ▓█ ███░░░██ ░ ░▒ ▓
▓▓▓▓▓▓▓▓ ▓█████▓███ ████▒     ████▒ ██░▒▒▒▒▒▒▒▒▒▒▒▒▒▒▒░░░    ▓█ █░░▓ ▓██░░▒▓▒▓▒▒
▓▓▓▒▒░░░ ▓████████▓ █ ░░          █ ▓▒▒▒▒▒▒▒▒▒▒▒▒▒▒▒▒░  ░     ▓█ ░░░░ ▒██░░░▓░▓▓
▓▓▓░     ░███████▓   ███        ██  ▓▒▒▒▒▒▒▒▒▒▒▒▒▒▒▒▒░  ░░  ░░ █ ▒░▒▓▓▓███▒ ▓ ▓▓
▒▓░ ░▓▓▓▒ ███████░░▓▓   █      █   ▓▓▒▒▒▒▒▒▒▒▒▒▒▒▒▒▒▒▒░░░░░░░░░ █ ████████▒░▒▓▓▓
▒░░  ░░░░ ▒██████░ ░░░░░ █   ▓█ ██ ▓▓▓▒▒▓▒▒▒▒░▒▒▒▒▒▒▒▒▒▒▒▒░░░░░░▓█ ▒░░░░   ░░ ░░
▒░░  ░░░░░ ██████▓ ░░░░░ █   █ ███ ▓▓▓▓▓▓▒▒▒░▒▒▒▒▒▒▒▒▒▒▒░░░░▒░░░ ▓█  ▒▒░ ▒████░
▒░░  ░░▓▓▓░░████▒ ▒▓▓▓▓▓ █  █ ███ ▓▓▓▓▓▓▓▓▒▒ ▒█▒▒▒▒░░░▒░░░   ▒░    █  ▒░███▓▓██▒
▒░░  ░░▓▓▓▓░░██▒░▒▓▓▓▓▓ █   █ ███ ▓▓▓▓▓▓▓▓▒░░██▒░░░░░░█░░      ▒   █ ▒ ▓███░░ ██
▒░░  ░░▓▓▓▓▓░ ▒░▒▓▓▓▓▓▓ █   █ ███ ▓▓▓▓▓▓▓▓▒ █▒█▓░░░░░░█▓     ▓▒     █ ░██▒██▒░██
▒░░  ░░▓▓▓▓▓▓▒░▒▓▓▓▓▓▓▓ █  ▓█ ███ ▓▓▓▓▓▓▓▓░░█░█▓      █▓▓▓▓▓▓▓      █ ░██ ░█████
▒░░  ░░▓▓▓▒ ▒▒░▒▒▒▓░▒▒ █   ▒█ ███ ▓▓▓▓▓▓▓▓ █▒░█▓▓▓▓▓▓▒███████▓██▓   █  ██▒░ ▒▓▓░
▒░░  ░░▓▓▓▓▓▓▓▓▓▓▓▓▓▓▓ █     █    ▓▓▓▓▓▓▓▓ █░░███████▒░    ░▒█▓██████ ░░██▒ ░  ░
▒░░  ░░▓▓▓ ▒▒▓▓▓░░ ▓░▒ █      ██▒▒▒▒▓▓▓▓▓▒░█░░░   ▒           ▒█▓█    ░ ░██▓ ░░░
▒░░  ░░▓▓▓▓▓▓▓▓▓▓▓▓▓▓▓▓ █      █     ▓▓▓▓░█▒░░░   ▒▒      ▒   ▒█▓█ ▓▓░░▒  ░░░░░░
▒░░  ░░▓▓▓░▓▓▓▓▓▓▓▓▓▓▓▓▓ █     █    ░▓▓▓▒░█████▓▒ ▒▒     ▒▒   ▓█▓█ ▓▓▓▓▓▓▓░▒▓▓▓▓
▒░░  ░░▓▓▓▒▓▓▓▓▓▓▓▓▓▓▓▓▓▓ █    ██░░▒▓▓▓▓░█▓██▓███▓       ▒▒  ▒█▓█▓█  ▓▓▓▓▓▓▓▓▓▓▓
▒░░  ░░▓▓▓▓▓▒▓▒▓▒▓▒▓▒▓▒▓▒▓ █  ████░░▓▓▓▒░█▓██▓██▓ ▓░       ░▓██▓█▓███   ▓▓▓▓▓▓▓▓
▒░░  ░░▓▓▓▓▓▒▒▒▒▒▒▒▒▒▒▒▒▒▒▒ ██ ▒█▒█▓▓▓▓░█▓▓██▓██▓  ▓▒░░░░░▒▓██▓▓█▓█▓▓███     ▓▓▓
▒░░  ░░▓▓▓▒▒▓▓▓▓▓▓▓▓▓▓▓▓▓▓▓ █ ▒░█▒▓▓▓▓▒░█▒▒██▓▓▓▓   ▓▒░░▒██ ██▓▓▓█▓█▓▓▓▓█████  
  ░  ░░▓▓▓▓▓▓▓▓▓▓▓▓▓▓▓▓▓▓▓ █  ░░ █▓▓▓▓░▓█▒▒▓█ ▒▒    ██████▓ ██▓▓▓▓█▓▓▓▓▓▓▓▓▓▓███
 ░░  ░░▓▓▓▓▓▓▓▓▓▓▓▓▓▓▓▓▓▓ █ ▒  ██▒▓▓▓░▓██▓▒▒██     ██████▓▓ █ █▓▓▓▓▓▓▓▓▓▓▓▓▓▓▒▒▒
▒░░  ░░▓▓▓▓▓▓▓▓▓▓▓▓▓▓▓▓▓ █ ▒░██▒▒▒▒▒░▒████▓▒▒███████████▓▒ ██ █▓▓▓▓▓▓▓▓▓▓▒▒░░░▒▒
▒░░  ░░▓▓▓▓▓▓           █████▒▒▒▒▒░░▒██▓▓▓█▓░░        ░██████  █▓▓▓▓▒▓▓▓▓▓▓▓▓▓▒░
▒░░  ░░▓▓▓   ████████████▒▒▒▒▒▒▒▒░ ▒███▒░░ █▓░   ▒        ░█ ▒░ █▓▓▒▓▒▒▒▒▒▒▒▒▒▒▒
▒░░  ░░▓  ███▒▒▒▓▓▓░  ░░▒▒▒▒▒▒▒░░ ▒███▒    ░█▓░  ░▓▓▒▒   ██ ▒▒▒  █▓▓▒▒▒▒▒░▒░░░░░
▒░░  ░  ██▒▒▒▒▒▓▓▓▓▓░░▒▒▒▒▒▒▒░░░ ▒█▒█▒░     ▒██▒░     ░██  ▒▒▒▒▒▒ █▓▒▒▒▒░▒░░ ░
▒░░   ██▓▓▓▓▒▒▒▓▓▓▓▓▒▒▓▓▓░░░░░  ▒█▒▒█▒ ░ ░  ░█  ███████  ░▒▒▒▒░▒▒▒ ██▒▒▒▒░░░░░░
▒░░  █▓▓▓▓▓▓▓▓▒▒▓▓▓▒▒▒▓▒░      ░█▒▒ █▒ ░░    █ █       ░░░░▒▒▒▒▒▒▒▒  ██▒▒░░░░░░░
▒░░ █▓▓▓▓▓▓▓▓▓▓▒▒▒▒▒▒▒░░       █▒▒  █▒▒░ ░███░█ ░▒▒▒▒▒░░     ▒░░▒▒▒░░  ███▒░░░░░
▒░ █▓▓▓▓▓▓▓▓▓▓▓▓▒▒▒▓▓▓░░ ░░   █▒░   ░█▒ ██▓  ██ ░▒▒▒▒   █████  ▒▒▒▒░░░░   ██▒░░░
▒░ █▓▓▓▓▓▓▓▓▓▓▓▓▒▒▓▓▓▓░░▒░░  █▒░░░░░░█ █▓▓    █ ░▒▒▒ ███░░▒▒███ ▒▒▒░░░░▒░░   █▒░
▒ █▓▓▓▓▓▓▓▓▓▓▓▓▓▓▒▓▓▓░░░▒▒ ░██░ ░ ░  █ █▓░    █ ░▒▒ █▓█▒░░▓  ░ █  ▒░░░░▒░░░░░  █
▒ █▓▓▓▓▓▓▓▓▓▓▓▓▓▓▒▒▒▒░░░░░░██▒░ ░░░  █░▒█░     █ ░ █▓█▓▓▒▓░▓▓▒▒▒██ ░░░░▒░░░░░░░
 █▓▓▓▓▓▓▓▓▓▓▓▓▓▓▓▓▓▓▓░░░░░██▓▒ ░░   ░▒█░░█     █ ░ █▓█▓▓▓ ▓▒▒▒ ░ ░█ ░░░▒░░░░░░░░
 █▓▓▓▓▓▓▓▓▓▓▓▓▓▓▓▓▓▓▓▒░░░█ █▒▒▒▒▒▒░   ░████     █  █▓█▓▓▒▓▓▓▓░▓▓▓▓▓█ ░░▒░░░░░░░░
 █▓▓▓▓▓▓▓▓▓▓▓▓▓▓▓▓▓▓▒▒░██▒██▒▒▒▒░      █   █    █  █▓█▓▓▒▓▓▓ ▓░░░░▒▒█ ░▒░░░░░░░░
█▓▓▓▓▓▓▓▓▓▓▓▓▓▓▓▓▓▓▒▒░█░░░█▒▒░         ░█ ░ █    █ ██▓█▓▒▓▓▒▓▓░  ░░▒▒█ ▒░░░░░░░░
█▓▓▓▓▓▓▓▓▓▓▓▓▓▓▓▓▓▓▓██    █░░ ░ ░░    ░ █ ░░ █    ██▓█░█▒▓▓▒▓▓░    ░▒▒█ ░░░░░░░░
█▓▓▓▓▓▓▓▓▓▓▓▓▓▓▓▓▓▓█  ░░ ▓█▓█▒░        ██ ░░ █░   ░▓█ █▓█▓▓▒▓▓▓░    ░▒▒█ ░░░░░░░
█▓▓▓▓▓▓▓▓▓▓▓▓▓▓▓▓▓█ ░░░░ ██▓█████████████ ░░░ █   ░█▒█▒░▓█▓▒▓▓▓▓    ░▒▒█ ░░░░░░░
█▓▓▓▓▓▓▓▓▓▓▓▓▓▓██  ▒░░░░ █▓▓▓▓▓▓▓▓▓▓▓▓████ ░░ █░  ░█▒▓▒▒█ █▒▓▓▓▓▓  ░░▒▒█ ░░░░░░░
█▓▓▓▓▓▓▓▓▓▓███   ░▒▒░░░ ██▓▓▓▓▓▓▓▓▓▓▓▓█████ ░▒ █  ░█▓▓▓█ ██▓▓▓▓▓▓▓░░░▒▒█ ░░░░░░░
█▓▓▓▓█████    ░░░░▒▒░░░ ██▒▓▓▓▓█▓▓▓▓▓██████ ░▒ █░░░░█▓▓▒█▓▓█▒▓▓▓▓▓▒▒▓▓▒█ ░░░░░░░
█████     ▒░░░░░░░▒▒░░░ ██▒▓▓▓▓▓█▓▓▓██████▒█ ▒▒ █░░░░█▓▒██▓▓█▒▓▓▓▓▒▒▓▓░█ ░░░░░░░
     ▒░░▒▒▒░░░░░░░▒▒░░░ ██▒▓▓▓▓▓█████████▒▒▒█ ▒░ █▒░░░███ ▓▓▓█▒▓▓▒▒▒▒░█ ░░░░░░░░
▒░▒▒▒▒░░▒▒▒░░░░░░░▒▒░░░ █▒    ▒▓█  ████▓▒▒▒▒▒█ ░░ █░░ ░▓█░ ▓▓▓█▒▒░░░░█ ░░░░░░░░░
▒░▒▒▒▒░░▒▒▒░░░░░░░▒▒░░░ █      ▓█    █▓▒▒▒▒▒▒▒█ ░░ █░░▒▒█▓░▒▓██▓▓▓▓▓█ ▒░░░░░░░░░
▒░▒▒▒▒░░▒▒▒░░░░░░░░▒░░░ █      ▓███████▒▒▒▒▒▒▒▒█ ░ █░ ▓██▓▓▒██▒▒ ░ ▒▒█ ░░░░░░░░░
▒░▒▒▒▒░░▒▒▒▒▒▒░░░░▒▒░░░ █      ▓███▓██▓▓▒▒▒▒▒▒▒▒█ ░ █░▒▒█▓▓▓█▒▒░▓▓▓▓▓▓█ ░░░░░░░░
▒░▒▒▒▒░░▒▒▒▒▒░░░░░░▒░░░ █     ░▓██▓█▓▓▓▓▓▒▒▒▒▒▒▒█ ░ █ ▒▒██▓█▓░ ▓▓▓▓▓▓▓▓█ ░░░░░░░
▒░▒▒▒▒░░▒▒▒▒▒░░░░░░▒░░ █░     ▒██▓█▓▓▓▓▓▓▓▒▒▒▒▒▒▒█  █▓▓▓█ ██▓░▓▓▓▒░░▒▓▓█ ░░░░░░░
▒░▒▒▒▒░░▒▒▒▒▒░░░░░░▒░░ █░     ▓██▓█▓▓▓▓▓▓▓▓▒▒▒▒▒▒█  ████  ██▓ ▓▓▒░▓▓▓▒▓█ ░░░░░░░
▒░▒▒▒▒░░▒▒▒▒▒░░░░░░▒  █░▒    ░▓██▓█▓▓▓▓▓▓▓▓▓▒▒▒▒▒█ ░ ███ ▒ █▓ ▓▓░▓▓█▓▓▓█ ░░░░░░░
▒░▒▒▒▒░░▒▒▒▒▒░░░░░░ █▒░░▒░░░ ▒███▓█▓▓▓▓▓▓▓▓▓▓▒▒▒▒█ ░░   ▒▒░ ▓▒▓▓░▓███▓▓█ ░░░░░░░
▒░▒▒▒░░░▒▒▒▒▒░░░░░ █░░░░░░░░░█ ███▓██████  ██████ ░░░░░▒▒▒░ █▒▓▓▒▓▓█▓▓▓█ ░░░░░░░
▒░░▒▒░░░▒▒▓▒▒░░░░ █░░░░░░░░░█  █████▓▓▓▓▓█       ░░░░▒░▒▒▒░░ █▓▓▓▒▓▓▓▓█ ░░░░░░░░
▒░▒▒▒░░░▒▒▓▒▒░░░ █░░░░░░░░░█ ▒ ███████████ ░░▒▒░░░░░░░░░▒▒░░▒ █▓▓▓▓▓▓█ ░░░░░░░░░
▒▒▓▒▒░░░▒▒▒▒▒░░ █░░░░░░░░░█ ▒▒ ██▒▒▓▓█▓▓▒▒█ ░▒▒░░░░░░░▒░▒▒░░▒░ ██████ ░░░░░░▒▒░░
░ ▒▒▒░░░▒▒▓▒▒░ █░░░░░░░░░█ ▒▒▒ ██▓███▓███▓█ ░▒▒░░░░░░░░░▒▒░░▒░░      ▒░░░░░░▒▒░░
░░▒▒▒░░░▒▒▒▒▒░ █░░░░░░░░█ ▒▒▒▒ █▓▓▓▓▓█▓▓▓█ ░░▒▒░░░░░░░░░▒▒░░▒░░░░▒▒░░▒░░░░░░▒▒░░
▒▒▓▒▒░░▓▓▒▒▒▒ █░░░░░░░░█ ░▒▒▒▒ ██████▓████ ░░▒▒░░░░░░░▓▓▒▒░░░░░░░▒▒░░▒░░░░░░▒▒░░
▒░░▒▒░░▓▓▒▒▒▒ █░░░░░░░█ ▓▓░░▓▒ ██▓▓▓▓▓▓▓█ ░░░▒▒░░░░░░░▓▓▒▒░░░░░░░▒▒░░▒░░░░░░▒░░░
░░░▒▒░░░▒▒▒▒ █▒░░░░░░█ █▓░  ▒▒ ██▓▓▓▓▓▒▒█ ░░░▒▒░░░░░░░░░▒▒░░░░░░░▒▒░░▒▓▓░░░░▒░░░
░░░▒▒░░░▒▒▒▒ █▒▒░░░▒█ █▓▒░ ░▓▒ ██▓▓▓▓▓▒▒█ ░░░░▒░░░░░░░░░▒▒░░░░░░░▒▒░░▓░░░░░░▒░░░
░░░▒▒▓░░▒▒▒ █▒▒▒▒▒▒█ ██▓▒ ▒▓▓░ ███▓▓▓▓▓█ ▒░░░▒▒░░░░░░░░░▒▒░░░░░░░▒▒░░▒░░░░░░▓░ ░
░░░▒▒▒ ░▒▒▒ █▒█▓▓▒▒▒█ ▓▓▓▓▒▒▒▒░ ███████ ▒▒░░░░▒░░░░░░░░░▒▒░░░░░░░▒▒░░▒▒▓░░░▓▒▒░▒
░░░▒▒▒░░▒▒ █▒█▓▓▓▒▒▒█ ▓▓░░▒▒▒▒░▒       ▒▒▒▒▒░▒▒░░░░░░░░░▒▒░░░░░░░▒▒░░▓▓░░░▓▓▒▒▒▓
░░░▒▒▒▓▓▒ █████▓▓▓▓██▒█ ░░▒▒▒▒░▒▒▒▒▒░░░▒▒▒▒▒░░▒░░░▓▒▓░░░▒▒░░░░░░▓▓░   ▒▓▓▓▓▓░░░░
░░░▒▒░░░ █▒▒▒▓▓████▓▓▒▒█ ░▒▓░ ▓▒▒▒▒▒░░░▒▒▒▒▒░▒▒░░░▒ ▒░░░▒▒░░░░░▓▒░    ░▒▓▓░░░░░░
░░░▒▒░░ ██▒▒██▓█▒▒███▒░█ ░▓▒░░▓▓▒▒▒▒░░░▒▒▒▒▒░░▒░░▒▓▒▓░░░▒▒░░░░▓▒░░    ░▒▓░░░░░░░
░▓▒▒▓░ ███▓▓▓▓██▓▓█▓▓▓▓█ ▓▓▒▒▓▓▓▒▒▒▒░░░▒▒▒▒▒░░▒░░▒▒░░░░░▒▒░░░░▒▒░▒▓▓▒░░▒▓░░░░░░░
░▓░░▓▓ ███████▓▓███████ ▓▓▓▓▓▓▓▓▓▒▒▒░░░▒▒▒▒▒▓▓▓▓▓▓▒░░░░▓▓▓▓▓░░▒▒▒▓▓▓▒▒▒▓▓░░░░░░░
░▒ ░▓▓ █▓███▒▓██▓▒▒▒▒▒▓█ ▓▓▓▓▓▓▓▓▒▒▓▓▓░▒▒▒▓▓▒░░░░▒▓▓░░▓▓▓▓▓▓░░▓▒▒▓▓▒▒▒▓▓░░░░░░░░
▓░ ▒▓ █▓▓▓▒▒▒▓▓▓▒▒▒▒▒▒▒▒█ ▓▓▓▓▓▓▓▓▓▓▓▓▓▓▓░          ▒▒▓▓▓▓▓▓░░░▓▒▒▒▓▓▒▒▒░░░░░░░░
▓░░▓▓▓█▒░░  ░▒▓▒▒▒▒▒▒▒▒▒▒█ ▓▓▓▓▓▓▓▓▓▓▓░ ░▒▓▓▓▒▒░░    ░▒▓▓▓▒▓▓░░▓▓▓▓▒▒▒▒▒░░░░░░░░
████████████████████████████████████████████████████████████████████████████████
▓█▓▒░░  ░░▒▓█▓▒░░  ░░▒▓█▓▒░░  ░░▒▓█▓▒░░  ░░▒▓█▓▒░░  ░░▒▓█▓▒░░  ░░▒▓█▓▒░░  ░░▒▓█▓
▀▀▀▀▀▀▀▀▀▀▀▀▀▀▀▀▀▀▀▀▀▀▀▀▀▀▀▀▀▀▀▀▀▀▀▀▀▀▀▀▀▀▀▀▀▀▀▀▀▀▀▀▀▀▀▀▀▀▀▀▀▀▀▀▀▀▀▀▀▀▀▀▀▀▀▀▀▀▀▀
                                                                               
                        E-MU.Emulator.X3.v3.0.0.READ.NFO                      
                                                                               
                                                                               
   SUPPLiER : TEAM R2R                 |   DATE : 2020.10.06                  
    CRACKER : TEAM R2R                 | NUMBER : R2R-9505                    
   PACKAGER : TEAM R2R                 |   TYPE : RETAiL/CUSTOM                
                                       |   DiSK : 06 x 10MB                    
                                                                               
   PLATFORM : WiN32/64 - EXE/VST                                              
   LANGUAGE : ENGLiSH                                                          
 PROTECTiON : FLEXnet v11.4                                                    
                                                                               
▄▄▄▄▄▄▄▄▄▄▄▄▄▄▄▄▄▄▄▄▄▄▄▄▄▄▄▄▄▄▄▄▄▄▄▄▄▄▄▄▄▄▄▄▄▄▄▄▄▄▄▄▄▄▄▄▄▄▄▄▄▄▄▄▄▄▄▄▄▄▄▄▄▄▄▄▄▄▄▄
▓█▓▒░░  ░░▒▓█▓▒░░  ░░▒▓█▓▒░░  ░░▒▓█▓▒░░  ░░▒▓█▓▒░░  ░░▒▓█▓▒░░  ░░▒▓█▓▒░░  ░░▒▓█▓
▀▀▀▀▀▀▀▀▀▀▀▀▀▀▀▀▀▀▀▀▀▀▀▀▀▀▀▀▀▀▀▀▀▀▀▀▀▀▀▀▀▀▀▀▀▀▀▀▀▀▀▀▀▀▀▀▀▀▀▀▀▀▀▀▀▀▀▀▀▀▀▀▀▀▀▀▀▀▀▀
                                                                               
  About E-MU Emulator X3 :                                                    
                                                                               
  * The last version of E-MU software sampler made in 2008.                    
  * First and only version that have 64bit version.                            
  * FLEXnet protected (C&R Auth), has not been properly cracked till now.      
    (Legit serial get leaked by someone but locked from time to time).        
                                                                               
                                                                               
  Legit version have following problem :                                      
                                                                               
  * User need to run outdated version of FLEXnet service which is released    
    before the first version of Windows 7. All those reports "Emulator X3 does
    not run anymore!" things are protection related issue.                    
  * Original installer put the value to wrong registry key for 64bit. FX can't
    be loaded in 64bit version due to this issue.                              
                                                                               
                                                                               
  Here is the R2R version :                                                    
                                                                               
  * Runs on Windows 10 without any protection related issue.                  
  * Proper registry installation. No 64bit FX issue.                          
  * FLEXnet is completely removed. FLEXnet service will not be installed.      
    FLEXnet DLL will not be loaded into memory. Stabler, faster, lighter.      
  * Other garbage (like customer registration tool) are not included.          
                                                                               
                                                                               
  You can still buy legit EMU library from here!                              
  https://www.digitalsoundfactory.com/product-category/format/e-mu-ex-px/      
                                                                               
  We hope our work will accelerate the sales of the legacy library :)          
                                                                               
▄▄▄▄▄▄▄▄▄▄▄▄▄▄▄▄▄▄▄▄▄▄▄▄▄▄▄▄▄▄▄▄▄▄▄▄▄▄▄▄▄▄▄▄▄▄▄▄▄▄▄▄▄▄▄▄▄▄▄▄▄▄▄▄▄▄▄▄▄▄▄▄▄▄▄▄▄▄▄▄
▓█▓▒░░  ░░▒▓█▓▒░░  ░░▒▓█▓▒░░  ░░▒▓█▓▒░░  ░░▒▓█▓▒░░  ░░▒▓█▓▒░░  ░░▒▓█▓▒░░  ░░▒▓█▓
████████████████████████████████████████████████████████████████████████████████
░░░░▒▒▒▒▒░▓▓▒▓▓▒█▓▒▒▒▓▓▓▓▓██▓███▓▓▓▒▒▒▒▒▒▒▒▒▒▒▒▒▒▒▒▒▓██████████████████████████▓
░░░░░░▒▒▒▒▓▒▒▓░▒▓▓░░░░░▒█░▒░░▓██▓▓▒▓▒▒▒▒▒▒▒░▒▒▒▒▒▒▒▒▓██████████████████████████▓
░░░░▒▒▒▓▒▒▓▓░▓░░█▓░███░▒█░░▒████▓▓▓▓▒▒▒▒▒▒▒▒▒▒▒ <M4KoTo> ██████████████████████▓
 ▒░░░▒▒░░░█▒░▓░░▒▒▒▓▒▓░▒█░▒░▒▓███▒▓▒▒▒▒▒▒▒▒▒▒▒▒▒▒▒▒▒▓██████████████████████████▓
░░░░▒▒▒▒▒▒▓▒░▓░░░░▒▓░░░▒█░█▓░▒██▓▓▓▒▒▒▒▒▒▒▒▒▒▒▒▒▒▒▒▒▓██████████████████████████▓
 ░░░ ▒ ▒ ▒▓▓▓▓▓▓█▓▓█▓█▓█████████▓▓▓▓▒▒▒▒▒▒▒▒▒▒▒▒▒▒▒▒▓██████████████████████████▓
 ░ ░ ▒ ▒ ▒ ▓▓ ▓▓█ ▓█▓█▓ ██████ █▓▓▓▓ ▒▒▒▒▒▒ ▒▒▒▒▒▒ ▒▓█ ██████ ████ ██████ ████ ▓
 ░   ▒   ▒  ▓ ▓ █ ▓█ █▓ ██ ██  █▓ ▓▓ ▒ ▒▒▒▒ ▒ ▒ ▒▒ ▒▓█ █ ████ █ ██ █ ████ █ ██ ▓
 ░   ▒   ▒    ▓ █  █ █▓  █ █   █  ▓▓ ▒ ▒  ▒ ▒ ▒  ▒ ▒▓█ █  █ █ █ ██    █ █ █  █
 ░            ▓ █  █           █  ▓▓ ▒ ▒  ▒ ▒ ▒    ▒▓█ █  █     ██    █   █    
              ▓    █              ▓▓ ▒ ▒  ▒ ▒       ▓  █         █    █        
                   █               ▓   ▒    ▒       ▓  █              █        
                                   ▓        ▒       ▓