i'm comfy
Staff member
💠 (´・ω・`) 💠
supreme janitor
comfy friend
Joined

Jan 25, 2022
Messages

355
Reaction score

414
comfy coins
I have the site set up with Google's search console for the lulz, because it can be funny to see exactly how people discover the site. Most often, people usually find it because they are looking for the sample CD archive, Stepmania packs, or ADOFAI charts (The post on the old site has a higher position on Google results than their actual site does!), Today, I recieved this notice though the search console: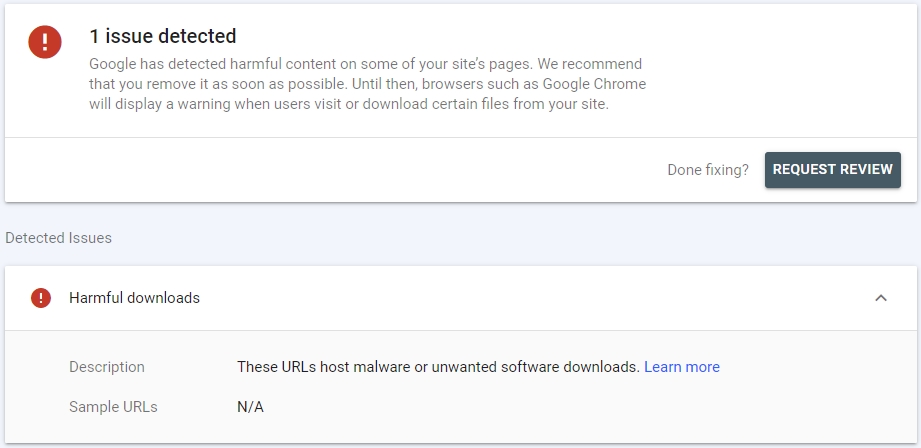 I guess our search ratings are about to tank, which sucks because I've somehow managed to make the first page of results for a whole lot of different search queries.
Google Chrome users get a big scary pop-up when they visit a certain page on
nnty.fun
now. Which page? I wish I knew, they didn't specify one. And I can't exactly ask them either...

Just for the record,
I do not knowingly upload any malicious files, at least without giving a clear warning on the download page.
If you happen to find malicious software in any files downloaded from nnty.fun, you are strongly encouraged to report it to me immediately, because I really don't need to get kicked off of my host because someone got their shit fucked up by something they downloaded from here, and they decide to send an abuse e-mail to my provider over it.
I upload a lot of shit here and simply do not have the time or resources to go through every single fucking archive I have on nnty.fun to try and find out what is making Google angry.
Stop using Google Chrome, and stop using Google in general.
Description

Billion-dollar global technology company gets angry at humble archiving site: the movie